IADB Sponsors Suriname Water Company's for Technical Visit to KSA NRW reduction program in Kingston, Jamaica
18 Nov 2019
< All News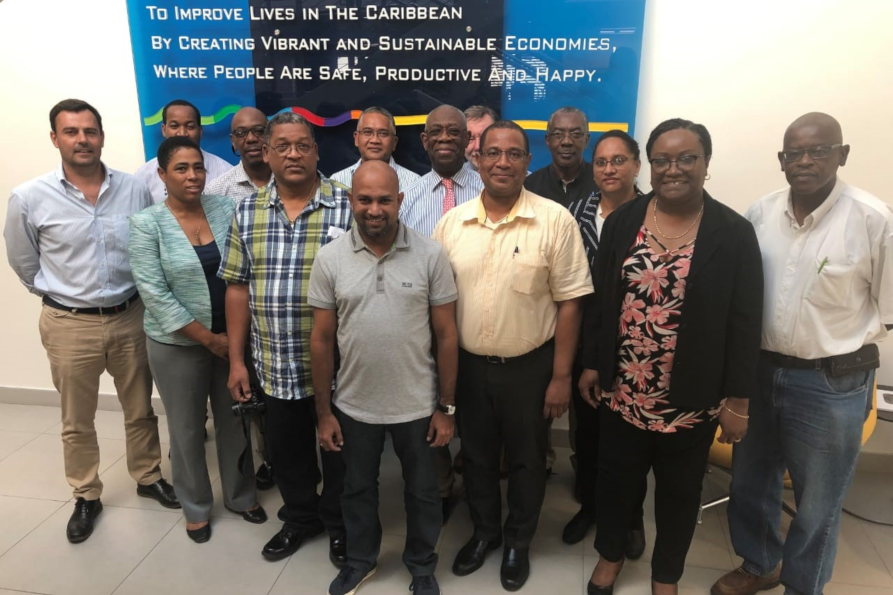 A delegation of water experts from the Suriname Water Company (SWM), joined National Water Commission (NWC), Vernon Barrett and Jermaine Jackson, Miya Jamaica's Country Manager, Alvaro Ramalho, and Inter-American Development Bank (IaDB) Evan Caetano for a group photo on November 6, at's IADB office.
The NWC and its strategic water-efficiency partner - Miya, welcomed the delegates to the Island for a technical visit, sponsored by the Inter-American Development Bank (IADB).
The team was engaged in a series of information-exchange sessions, both in office and on site, to review NWC's and Miya's best practices and innovative approach to the Co-management NRW Reduction Program, as well to visit the Rural Areas best practices and water challenges in distribution. Suriname's team also shared details of how they executed the Water Supply Modernization Program in their country.
NWC and Miya guided the delegates on several site visits across Kingston and Saint Andrew; for Active Leak Detection, prompt Leak Repairs, Operation and Maintenance and effective Pressure Management and also areas of South and Northern Manchester, to see projects completed, as well as those underway.