NWC, Miya Jamaica recognize staff for outstanding performance in the Non-Revenue Water Programme
14 Jan 2020
< All News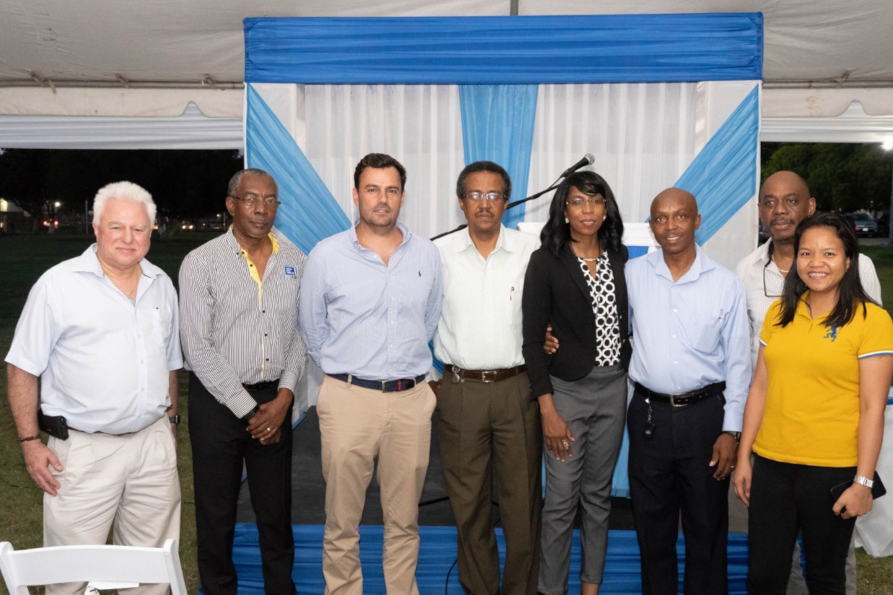 The National Water Commission (NWC) and Miya Jamaica recently hosted a Staff Recognition Ceremony for team members in the NWC's non-revenue water programme.
Country Manager for Miya Jamaica Limited, Alvaro Ramalho, presented Vice President of Divisional Operation, for the National Water Commission (NWC), Michael Dunn, with the award for Personality of the Year,
Dunn, who has served the NWC for over 38 years, and who retired in December 2019, was among forty members of staff across four project teams - Leak Detection, Leak Repairs, Socially Challenged Areas (SCAs) and Pressure Management / Operations Units - who were awarded for their outstanding dedication and performance in their respective capacities.
Water and Sanitation senior specialist at the Inter-American Development Bank (IDB), Evan Cayetano , presents the award for Most Outstanding Pressure Management & Operations team member to NWC member of staff, Shamar Palmer .
Ramalho, in his address to the various teams said, "I am pleased that the event is growing in quality, as too the successful results of our NRW reduction efforts [nonetheless], we still need to sweat and increase our efforts for the remaining 10 months of the project, as there are still important things to be done to lower the NRW levels in Kingston and St. Andrew (KSA).
He also encouraged team members who didn't receive an award to continue to work hard so they may be among the 2020 batch of awardees.
The Kingston and St Andrew (KSA) Non-Revenue Water (NRW) Reduction Co- Management Programme is being implemented by the National Water Commission (NWC) in collaboration with international water efficiency co-management partner Miya Jamaica.

NRW reduction is a crucial priority for the NWC as it seeks to achieve its Corporate Objectives of increasing operational efficiency; growing revenue; improving service delivery; strengthen relationship with its customers and building staff capacity. This J$5 billion (or US$42.5 million) programme is a major undertaking for the National Water Commission for 2015 to 2020 and began in earnest in the third quarter of 2016. The aim of the programme is to cut by half the 60% level of Non-Revenue Water in KSA. The initiative has achieved over 30% reduction so far.