NWC/Miya Jamaica Set to Tackle Water Challenges in Portmore; US$13 Million Allocated by Prime Minister's Office
22 Dec 2020
< All News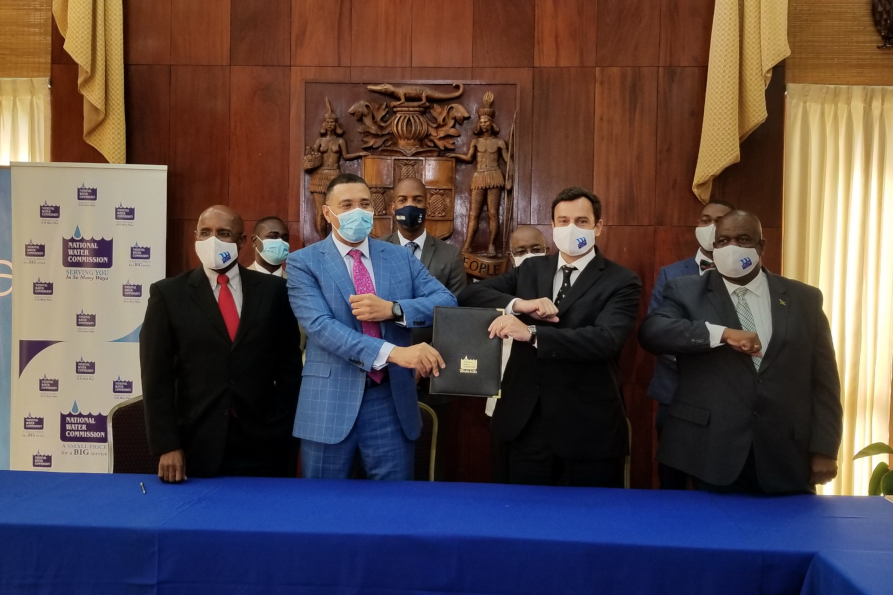 Residents, businesses and institutions in South East Saint Catherine (Portmore) should expect significant improvements to their water distribution system and billing, as the National Water Commission (NWC) in collaboration with Miya Jamaica is set to commence immediate water works under the new Portmore Co-management, Non-Revenue Water (NRW) Reduction Programme.
Prime Minister Andrew Holness said:
"What we are doing here today is a step in the right direction; we are maintaining the infrastructure in a smart way; detecting the leaks and putting in steps for social engagement and interaction with the citizen. Bringing in a company like Miya, which has deep and extensive experience in water management made sense."
He was speaking at the recent Ceremonial Contract Signing of the Portmore Co-management Non- Revenue Water (NRW) Reduction Programme held at the Office of the Prime Minister on Thursday, December 17, 2020.
Portmore is expected to reap similar benefits as did Kingston and Saint Andrew (KSA) from the NRW reduction work carried out by NWC and Miya, over the last five years. Together, the water companies have slashed water losses from 125,000 (m3/per day) to 70,000 (m3/per day) which is equivalent to water savings of 20,000,000 m3 /per year, which is enough to supply 250,000 more Jamaicans. These key performance indicators translate to 70% of the overall project target set in 2015.
While the NRW work in KSA continues, by way of the sustainable legacy design that NWC has inherited from Miya, President of NWC, Mark Barnett, noted the urgency with which the Portmore project is being addressed:
"Portmore is contiguous to the metropolis of the corporate area and put the two together this is where the largest consumption of water takes place in the island and it is just a commercial imperative that we tackle that situation in Portmore," he explained.
Portmore, which has a population of 200,000 is currently being serviced by approximately 54,000 traceable service connections. The average system input is approximately 36,000 m3/per day of which around 21,000 m3/per day is estimated to be lost (non-revenue water) by the utility company.
Using KSA as an example, water losses result from age-old deteriorating infrastructure, regular droughts, faulty meters and illegal connections.
Citing illegal connections as a significant contributing factor to NWC losses as well as a contributing factor to national inflation, Prime Minister Holness during his remarks urged citizens to get regularized.
He said:
"For those who have illegal connections, there is no need to steal water. You have a very sympathetic and understanding government, there should be nothing to fear, that you will be deprived of water; it is in having everyone on the system and us being able to budget and plan for what your consumption is likely to be, so that we can [eventually] bring down the rates."
Some of the expected benefits from the new Portmore project are improved service delivery to the customers in the area; enhanced operational efficiency of the NWC; improved water distribution at acceptable pressures to meet the required Office of Utilities Regulation (OUR) standards; improved customer satisfaction; and huge energy and water savings, in addition to other improvements.
Country Manager of Miya Jamaica in his presentation, pointing to the importance of the work to be done in ensuring NWC remains commercially viable, said:
"You cannot manage what you cannot measure, and so NWC and Miya are committed to improving these [NRW] levels; under this performance-based contractual agreement, Miya will work for one year backed by our own investment, which is both a motivation for us to serve the people of Jamaica well and to support the NWC to the best of our ability, as it seeks to improve its earning potential and operational efficiency."
The Portmore Co-management, Non-Revenue Water (NRW) Reduction project is a US$13 million initiative that will be executed by NWC and Miya Jamaica and is being financed by the Jamaican Government through the Ministry of Economic Growth and Job Creation. The project is mandated to reduce NRW in Portmore from an estimated 21,000 m3/per day (58%) to 10,000 m3/per day (30%).